<h2>A uniquely simple solution</h2>
We are a British company with extensive property development know-how and home design expertise. We understand the challenges house builders face with the cost and complexity of installing smart home technology into larger scale developments.
In parallel, we are also seeing how people increasingly combine living and working at home and how energy efficiency is a greater priority to house holders for both cost and environmental reasons.  We see smart technology as the enabler that helps house holders be in control and always connected to their homes.
We can provide house builders with a wired smart home technology solution that perfectly balances cost considerations, with home owner impact and world class reliability and functionality.
We bring the very best of smart home technology into a simple, wired, cost effective solution.
Designed by developers for developers.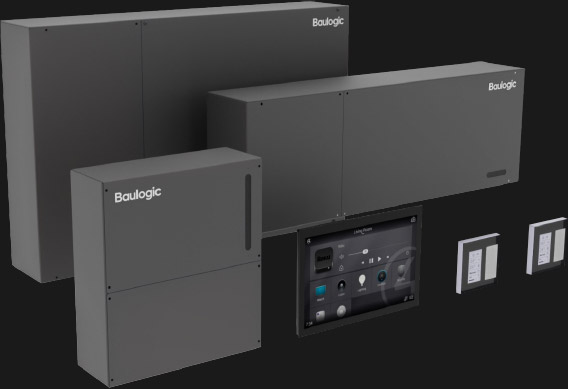 One simple solution,
wired into the fabric of the building
Baulogic brings together all our smart home technology features into one simple plug and play solution that gives fingertip control of the home while being easily installed within the build process by any electrical contractor.
Baulogic
– made for developers to…
engage buyers
raise specifications
sell more homes
install quickly
install simply
save money
work for you
work for your buyers
Enhanced features suitable for apartment buildings
Solving the challenge of common services required for an apartment block:
Connect with concierge and block management services via the app or the touch screen
Facilitate door and gate access and deliveries via door intercom or phone
Property-wide messaging for residents and staff, including urgent alerts
Remote access to video and motion based security systems
Helping you build more energy efficient homes
A greater focus on the environment is driving major change in the housing and construction industry.  Baulogic can work with housebuilders to meet the evolving regulatory demands, connect developments with wider community energy and sustainability initiatives and empower homeowners with greater control of their homes
How does it work?
A process that's refreshingly simple
Design once per plot

A total solution designed to work reliably on every plot. Manufactured to your specification and timetable.

1st Fix

Back plates, essential cabling and connectors ready the building, whilst minimising up-front costs.

2nd Fix

Plot-specific package called-off from Baulogic. Quick plug-in installation by your usual electrical contractor.

Go live

Fully functioning right out of the box. Switch on your intelligent home.

Post LIve Support

Long term support focus, remote diagnostics and simple guides online for electrician and homeowner.
Throughout the process we offer 'how to' guides and telephone advice to support you with design, install and aftercare.
How to Buy?
We work directly with house builders to develop affordable, repeatable and customisable solutions bringing smart home technology in to all new builds, including apartment blocks and houses.
Take your first steps towards building smarter homes
Drop us a line to discuss your requirements and how your next property project can benefit from Baulogic smart home features.