Product Catalogue
Introducing the Baulogic range of smart home products offering convenient and simple control of heating, lighting, ambience, security and home energy management.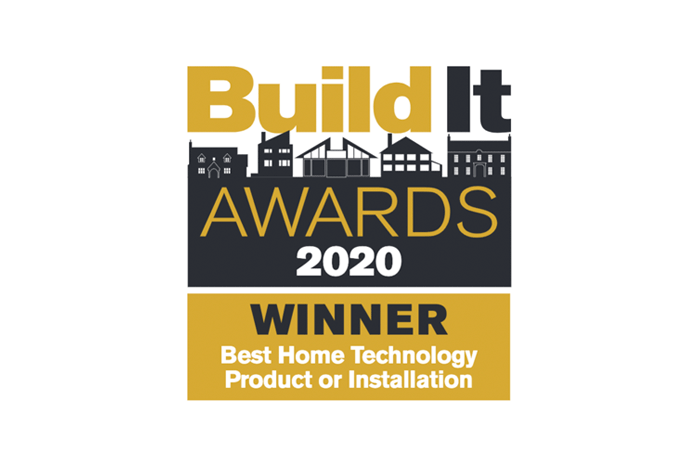 Winner of Build It Award
Baulogic's wired smart home system is the winner of the 'Best Home Technology Product or Installation' in the 2020 Build It Awards.
Baulogic B1

– the brains of the system
All Baulogic products are linked to Baulogic B1, the main control box and the brains of the system.
Installed discreetly in every property it operates across the main living areas – typically the reception area, kitchen and main living area. It provides controls to heating and lighting as well as door intercom and security cameras.
It comes with a touch screen providing all programming and can also be controlled remotely via smart phones.
Wide-ranging smart features can be added to extend cover to the whole home or according to individual homeowners requirements.
The B1 covers the main living areas:
Includes eight dimmable lighting circuits, 4 on/off lighting circuits
Connects to your home broadband to enable mobile app connectivity
Connects to touch screen, cameras and door intercom (up to four network devices)
Uses global standard KNX cabling to power and control your light switches and sensors
Secure remote access for support and enhancement
4 volt free connections to motion sensors. Or connect to building burglar alarms or smoke alarms for notifications on your touchscreen or phone
Receive backplate and connectors during first fix. Control box is installed on to back plate at second fix
Optional energy monitor to track your energy consumption
+Control

– effortless control of your home
Touch screen and app provides full control of your home
Continuous ability to review and adjust heating across your entire home
Control and adjust schedules for lighting and heating to fit around your lifestyle
View your security camera feed
Control any light anywhere in your home
Create alerts and notifications to your phone
Functionality also available via mobile phone once connected
to internet
Wall switches 

– more than just a light switch
Our simple and display switches provide greater levels of control around your home
Control all lighting circuits and scenes around your entire home
Two available switches, one is a display switch with increased control
Simple KNX cabling provides power and control independent of any lighting circuit
Low voltage so can be installed within bathroom
Add key pre-set events like Goodbye, Welcome or Goodnight which will set your lighting and/or heating just as you need
Temperature sensor integrated into the switch
KNX cabling can run next to power cables unlike network cabling
+Comfort

– smart control of your heating
The Baulogic system can manage your boiler, your underfloor heating and even your blinds and curtains for maximum temperature control and energy efficiency.
CHT

– central heating control
Smart control of two heating zones and your hot water (DHW)
Easy to programme pre-set schedules
Uses inbuilt temperature sensors within any Baulogic light switch
Alternatively add two independent temperature sensors
Weather compensation built-in using internet or external temperature sensor
UFH

– underfloor heating control
Control of up to eight underfloor zones
Uses inbuilt temperature sensors within any Baulogic light switch
Alternatively add eight independent temperature sensors
Links to pre-set schedules
Link to your air source heat pump (ASHP)
+Security

– being aware of your home
Door intercom and video cameras allow easy monitoring of the property
Our door intercom features a high res colour camera which integrates to your touch screen or mobile phone
Our camera can be mounted indoors or outdoors and operates in high res during day and night
Stream in realtime to your touch screen or phone
Look back over previous days to see any movements of interest
Add a motion sensor to generate alerts on movement
Connect your third party smoke, fire, burglar or flood alarm, to be notified via app, lighting or touch screen of any alerts
+Lighting

– smart lighting for your whole home
Increase the number of lighting circuits powered and controlled by your home
Includes eight dimmable and four on/off lighting circuits
Every +Lighting box can be connected to its own individual fuse box spur
Additional 4 volt free outputs available to connect additional sensors or alerts
Controlled by unlimited switches and panels
Want to find out more?
To find out more about how Baulogic can benefit your next property project, please contact hello@baulogic.com.